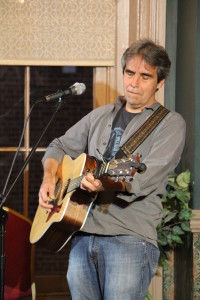 While I now live in the outlying burbs of the DC metro area, my heart is still in Philly. I was born and raised in Norristown, PA, where my parents still live and where my love for music was born.  My childhood Sundays were spent listening to the hifi where my folks would spin anything from Eddy Arnold to Don Ho.  As my own tastes in music emerged I tried to take control of the stereo and introduce my family to the likes of The Grateful Dead (Mom hated the name) and Thin Lizzy.
As an adult, I now consider myself an eclectic connoisseur of music but tend to favor independent solo artists and groups. My current artistic influences range from Warren Zevon to Ryan Adams to Eef Barzelay. I would call my music, songs of Love, Life,  Death and Hope.
I released my first full length CD "So On And So Forth" in August and am looking forward to getting back in the studio in 2015 with a full band.
Much of the last few decades were spent raising three awesome kids (now adults) and working as a professor/counselor at a local community college. I also dedicated a great deal of time to pursue my other obsession, distance running.
http://www.facebook.com/timkirknermusic