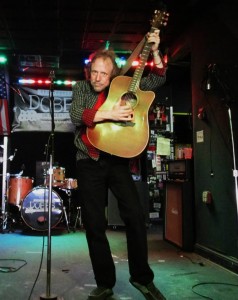 Paul Kurrey is a prolific songwriter solo artist who has been playing and writing for a number of years. He was bass player the band Smoothdog. Jamison Smoothdog was the unaccredited writer of the hit classic Can't You See by Marshall Tucker band. It was a recent Daily News article about who the real writer was  http://mobile.philly.com/entertainment/?wss=%2Fphilly%2Fentertainment&id=285683241. Paul most recently has had solo shows in Toronto New York, Philadelphia, Savannah, and New Jersey to name a few spots. He is in the movie documentary MEET ME ON SOUTH STREET the j.C. Dobbs story which is also in the library of the Rock and Roll Hall of Fame in Cleveland. His music has been called street hearted and beautiful. Lyrics take you to places from romance, break ups, street life, and a cast of characters that will certainly be as interesting as entertaining. There is nobody out there that can do a song about a hopeless drug addiction, the craziness of a romance gone bad as well as up beat tunes of love. He should not be missed.
Paul recently did a 1 time duet show with Eric Bazilian writer of Joan Osbourn's One of Us and the founder of The Hooters.
Listen to the following podcast to learn a little bit about Paul Kurrey and hear his music.