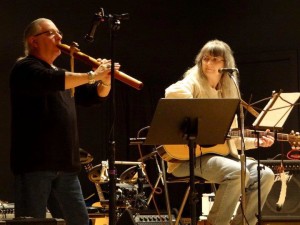 Silver Wind, a member of INAFA (International Native American Flute Association), is the duet formed by Mike Mascia and Jackie Neuman when they brought their diverse background of musical talents together in 2006.
The haunting refrains of the Native American flute as played by Mike blend well with the vocals and guitar as performed by Jackie to create the native-infused sound of Silver Wind. Since forming their duo they have been weaving their musical blend from a diverse background of musical influences that range across jazz, blues, soft rock, country and folk which they present with a contemporary Native American style. They have written many original songs both instrumental and vocal and perform all songs with their own unique presentation and have an ever-growing circle of listeners. They have performed in various venues in the surrounding tri-state area at local universities, schools, coffee houses, cafes, churches, and had concerts under the sun and stars.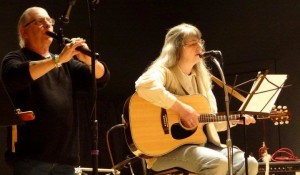 In addition to their CD called "Silver Wind – Live", they were also honored to be among the artists to record an original song for the holiday CD "Peace On Your Way" released in October, 2009, for the PA Breast Cancer Coalition.
Contact us at: silverwindmusic@hotmail.com