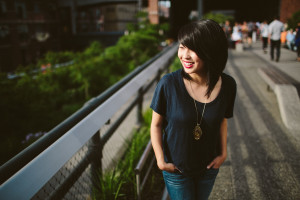 KIM EDWARDS is an East Coast-raised singer-songwriter who began piano lessons at the age of 4 and grew up listening to a healthy dose of everything from Mozart to The Beach Boys to Queen. With roots steeped in classical music and an appreciation for well-crafted pop, Kim's uniquely playful musicality has garnered favorable comparisons to artists such as Ingrid Michaelson, Regina Spektor, and Christina Perri (with a hint of the Beatles).
In 2009, Kim released her first self-titled EP (produced by Will Hunt (Ryan Cabrera, Amy Lee) and Ken Calderon). Her first full-length album, Wanderlust (produced by Randy Adams) was released in 2012. Described as "epic and elegantly emotional chamber pop", Wanderlust reached #25 on the iTunes Singer/Songwriter chart, an impressive feat for a totally independent, DIY artist who used standard networking platforms like Twitter, Facebook, and Kickstarter for exposure.
Since the release, Kim has been featured on numerous podcasts/radio shows (LA Talk Radio with Guy Towe, WCWP 88.1 FM Long Island, Up Close & Acoustic with Charlie Silvestri on WBZH) and music blogs (Adnams Brewery's April 2012 Artist of the Month, NYSongwriters.com's June 2013 Artist of the Month). She has opened for artists such as Jars of Clay, Shirock, and Zerbin and has played notable venues such as Room 5 in Los Angeles, The Bitter End in NYC, and Eddie's Attic in Georgia. She has also performed in the acclaimed NY Songwriters Circle showcase.
Kim recently returned to the studio where she recorded her second EP to be released in 2015.

https://www.reverbnation.com/kimedwardsmusic
FB: www.facebook.com/kedwardsmusic
Twitter: @kimedwardsmusic (www.twitter.com/kimedwardsmusic)
Instagram: @kimedwardsmusic (www.instagram.com/kimedwardsmusic)
YouTube: www.youtube.com/kimedwardsmusic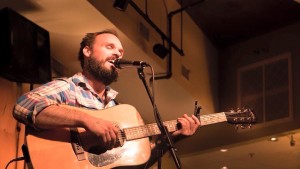 Also on the bill is John Hufford, another singer/songwriter. Check his site at http://johnhufford.com.
Growing up in a small town in PA, John began playing guitar as a teenager and went on to pursue education at a local state university. After school John continued to pursue music in several bands and lead music at his church. All the while he never considered himself a song-writer. Then in 2012 while he was recovering from lyme disease, John began to write his first songs. The more John wrote, the more his passion for songwriting grew. He was soon playing open mics at local listening rooms, coffee shops and bars. Eventually more and more doors opened up that allowed John to perform live showcases and he was soon playing venues in Philadelphia, Bethlehem and New Jersey. In the summer of 2014, John had the honor of being selected in Godfrey Daniels best of open mic and performed at Musikfest in Bethlehem.
In October 2014, John released his first EP entitled "Person". It was at this time that John began playing with a full band of creative musicians who add a new feeling and emotion to heis songs. Mixing thoughtful lyrics with a unique guitar style and distinc voice tone, John Hufford strives to create music that speaks to the reality of our world.