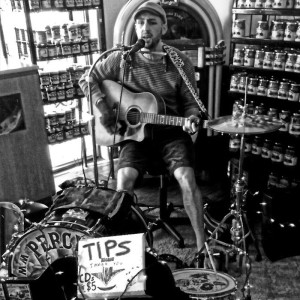 After a childhood spent developing a love for all things music, on December 28, 1999 Percy got a digital four-track recorder for his birthday. It was the start of his musical career. Writing songs had always been a hobby of his along with playing multiple instruments but now he could put it all together on a cassette tape to play for his friends in his Plymouth Voyager!
Over the years his sought after skills as a drummer and guitarist have landed him in many bands ranging from Irish folk to heavy metal, including his high school jazz band and even a Scottish pipe and drum band.  Never content with limiting his abilities to one instrument or genre 2015 finds Percy as a one-man-band settled stylistically into a country-folk sound. His latest works are an assemblage of his earlier folk and country, with a new more complex rhythmic rock feel.
Having played some of the most exclusive venues in the tri-state area, Percy has entertained thousands with his popular one-man-band show in the styles of Arlo Guthrie, Bob Dylan and Pete Seeger.  Percy Shaw strums his guitar, and keeps rhythm on the drums, while singing and playing harmonica.  If you haven't had the pleasure of seeing him perform and hearing his unforgettable lyrics and melodies, this is your opportunity!
Check out Percy on Facebook at https://www.facebook.com/percyshawomb.