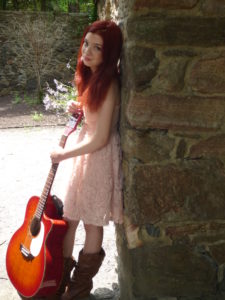 Julia Zane is an up and coming country artist from the Philadelphia area. Julia is 14 years old and has performed at many venues throughout the Tri-State area such as: Yachtstock, a fundraiser where many of the proceeds go to Shriner's Hospital, Our Community Cup, a coffee house for disabled individuals. In addition, Julia has sung at venues such as Christmas Village @ Philly's Love Park, The Bourse in Philly, Chaplin's Live in Spring City, the Liberty Pro Rodeo, the Deck at Harbor Pointe, the Corinthian Club, the West End Boat Club, RP McMurphy's, Barnaby's Heritage Ballroom, AJ Stephen's Crab House, the Clarion Hotel, the Legendary JC Dobbs, The Coffee Beanery in Media, Pa, the New Leaf Club, The Well in Delaware and the White Horse Winery in NJ. Julia also performs at many of the "Keep Music Alive" events as well.
Julia started off performing with The Future Stars, produced by Elena Brokus two years ago and has recently taken off to do solo performances for many events and venues. George and Sara Spicer have taken Julia under their wings this past year and has given her many amazing opportunities to help her hone in on her craft. Sara Spicer just moved to Nashville to work on two very impressive projects…one being the Highway Women!
Recently, Julia performed with Sara Spicer and Audra McLaughlin of Season 6 of the Voice at the Franklin Twp. Community Day. She also had the privilege of singing our National Anthem at the Liberty Pro Rodeo this past September in Plymouth Meeting. Julia performed in North Wildwood last month at the Boots at the Beach event along with performing at Juan Pabelo's also in North Wildwood. She also sang our National Anthem at the Glenolden Community Day on Oct. 4th of this year, along with singing a set and was hired on the spot to perform at Norwood's Community Day next year!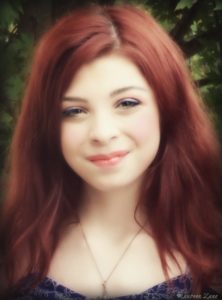 Julia opened a Mother's Day concert for Blue Magic and Rick Sheppard of the world famous Drifters this past Mother's Day 2016, which was an amazing honor! She performed on the radio on Crusin' 92.1 FM with Billy Carlucci/ Patti Lattanzi and the Gang and also appeared on television on the Linwood Jackson Show in Wilmington, Del. The Corner Coffee Shop in Lancaster, Pa has hired her several times to perform there with several dates coming up, along with her performing at Dominic's Pub in Media also with several dates in Oct. and December.
Julia sings every week at RP McMurphy's Open Mic in Ridley Twp, Pa on Tuesday nights and loves singing with the band there as well.
Besides her musical talent, Julia is in the National Junior Honor Society at her school, PALCS (Pennsylvania Leadership Charter School) and has just begun the ninth grade in High School.
Julia loves horseback riding and has been in the saddle since she was a toddler. Her family owns a Horse Carriage business, Trinity Carriage Services, where Julia works at many of their events.
Julia recently learned how to play the guitar, only 6 months ago, and has taught herself many songs to perform publicly. She also has taught herself how to play the ukulele and loves switching off between the two of them at her events. Julia attends Delco Let There Be Rock School and takes vocal training under Melissa Daley.
Julia believes in giving back to her community and is involved in a charity called, "Cell Phones For Soldiers" where she has lost count of the hundreds upon hundreds of old cell phones she has collected where for each phone donated, an organization called ReCellular gives our troops who serve abroad an hours worth of talk time on pre-paid phone cards so they can afford to call home to their families.
Julia works very hard at her craft and loves every minute of it and dreams of going to Nashville on day.
Check out her website at http://juliazane.com/ and Facebook page https://www.facebook.com/juliazanemusic.