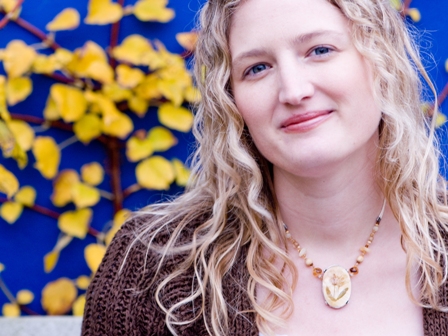 If singer-songwriter Becca Gohn has a superpower, it might be writing love songs. That's not all she writes, but it is certainly a passion of hers. Hopeless Romantic? Probably. Dreamer? Definitely. A little crazy? Perhaps.
From the jumble of ideas that finds its way out of her head to paper, voice and piano, she creates her own unique blend of adult contemporary pop fused with a healthy dose of jazz. Her "Jazz inspired pop", as she fondly refers to it, centers around the themes of life, love and the human experience, while her distinctive voice brings to the table a sultry brassiness reminiscent of Billie Holiday and a sweetness you might mistake for Donna Lewis.
Listeners of Becca's music have also cited Jewel, Duffy, and Madeleine Peyroux as parallel-ish artists. On occasion she has even been told that there is a touch of country ambience to her music. Becca will neither confirm nor deny this, but she will confess that there may be karaoke footage in existence somewhere of her singing Patsy Cline.
Becca shares a home with two adorable kids, a devoted husband and two overly affectionate felines, all of whom have come to recognize the symptoms of "song idea" in progress. The far off look in her eyes, the incessant singing without regard to circumstances, the frantic searching for her phone, a writing implement and paper, and the slightly ominous phrase "I just need a sec to do something" followed by sudden, often lengthy, disappearances to the basement.
Becca has lived her dream on many stages including the Bitter End in NYC, The Kimmel Center with Peter Nero and the Philly Pops, Christkindlmarkt in Bethlehem, and World Café Live in Philadelphia and her songs have aired on platforms including WXPN and Women of Substance radio.
In recording her two previous albums, Becca has done a lot of soul searching, experienced many golden moments, has had a lot of laughs and has shed a few tears. But ever a chaser of dreams and a sucker for taking chances, she is dutifully working on her next album. Look for its unveiling in spring of 2017.
Official Site: beccagohn.com
facebook.com/beccagohnmusic
twitter.com/beccagohnmusic
instagram.com/beccagohnmusic
soundcloud.com/beccagohn