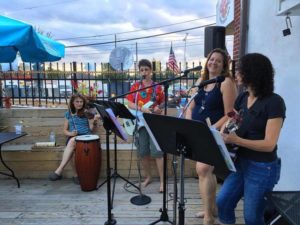 Sue Hunt & Jean Lenke started playing together in 2009 as part of an experimental women's music group they called House of Roses. The experiment flopped… but what grew out of that experience was a solid folk, roots & rock duo.
Playing together as Just Roses, or Just Roses & Friends, Sue & Jean throw their own twist on singer-songwriter favorites, old school country, classic folk, American roots & acoustic rock.
Sue also plays with her husband Bob Hunt in their bluegrass ensemble – House Calls.
Fresh from the garden of American Roots & Rock & Roll, Just Roses strips all american-music down to it's pure essence. Dark and musky, with some country floral notes – its a simple concoction – music you'll fall in love with – that will touch your inner soul.