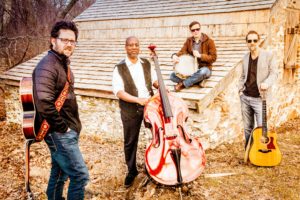 It was around the muse of a campfire that the voices of Peter Delaplane and Ben Chandler first intertwined. The two have been harmonizing and trading licks ever since. Over the years, they have performed as a duo, and with various backing groups, at community festivals, charity events, coffeehouses, and local clubs. With the addition of bassist George Kittrel and percussionist Rick Holst, Thunderbus was born.
Pushing the boundaries of folk rock and bluegrass, the band has been sculpting its own version of acoustic based rock. From the energetic anthems to the gentle ballads, Thunderbus delivers on the emotional front, captivating and engaging the listener with their tight harmonies, introspective lyrics, and driving rhythms.
Thunderbus continues with the spirit of the campfire through their live shows, drawing in the audience with stories of peaceful reflection, and hopeful aspirations.
Email: ThunderbusMusic@gmail.com
Facebook: Facebook.com/ThunderbusMusic
Soundcloud: Soundcloud.com/ThunderbusMusic
Booking: (215) 266 – 8658