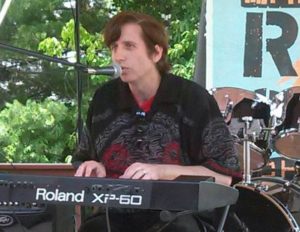 Vincent James always knew that sooner or later it would come down to love songs. While growing up he enjoyed listening to variety of musical styles including artists ranging from easy listening favorites Barry Manilow, Bread, The Carpenters and John Denver to more heavy hitting artists of the day including Led Zeppelin, Kiss and even progressive rock outfits Kansas, Yes and Genesis. As James ventured into his own songwriting career, he realized that love songs are where his true passion lies.
As a performer James has graced stages all over the Philadelphia area in clubs, restaurants, weddings and other special events. His musical repertoire includes a number of original love songs from his collection as well as popular favorites from the 1940s to today. Highlights of James career include his "6 Weeks to Valentines" Tour where he performed 100 shows from New Years to Valentines including venues like Planet Hollywood/NYC, Hard Rock Café/Philly and the Vermont Teddy Bear Company. He also twice embarked on a "Whirlwind Valentines Tour", performing at 9 different Barnes & Noble stores in one day and 8 different Borders Bookstores in one day another year. Media appearances over the years include The Jenny Jones Show, QVC, NBC 10! Show, Fox News/Philly, FOX's Good Day Philadelphia and CN8 News.
Vincent James is the founder of LoveSongs.com, where he has created custom love songs for couples and families all over the world for weddings, anniversaries and other special occasions. More recently, Vincent and his wife Joann launched Keep Music Alive, an organization dedicated to promoting the value of music for our children's education, for the many types of therapy music and for our overall happiness as a society. Together they have published the book "88+ Ways Music Can Change Your Life" featuring 100+ inspirational music stories from around the world including from a number of celebrities. 50% of the proceeds are donated directly to organizations that help put musical instruments and instruction into schools and communities that need it most.
For more information please visit www.KeepMusicAlive.org, www.KidsMusicDay.org and www.TeachMusicAmerica.org.