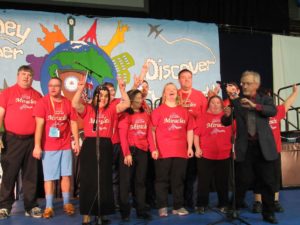 Media Theatre State Street Miracles will open for Jonny.
"Don't Stop Believin'" in Miracles
State Street Miracles are ambassadors in song for adults with abilities who have many ABilities
The State Street Miracles, a performance troupe of 14 adults with intellectual disabilities, continue to spread the joy of music and dance while increasing awareness of the talents and abilities of people with disabilities. The Miracles are ambassadors in song who are professional, yet spontaneous as they introduce themselves and perform a repertoire of songs from show tunes to modern rock hits including the Journey song, "Don't Stop Believin'."
The Miracles were founded in 2006 and for 11 years they have earned standing ovations for their performances at venues such as the Rose Tree Summer Festival, Media Theatre concerts and the Pennsylvania Fall Festival at Villanova University.
They have traveled to Harrisburg and performed for the state Senate, and to Washington, D.C., to perform at the nation's capitol. The troupe, which is sponsored by the Media Theatre, features 14 adults who have various intellectual disabilities. The emphasis at Monday night rehearsals goes beyond performing. Since joining the group, members have experienced improved speech and articulation, independence, increased self-esteem and, most importantly, they've formed friendships with their fellow performers.
Their repertoire includes a rousing rendition of "God Bless America," their theme song, "Getting to Know You," a hip-shaking version of Elvis Presley's "Hound Dog" and the special "Lean on Me," which communicates their message of support for each other. One member, Patrick Clark, also performs a patriotic a cappella version of "The Star-Spangled Banner."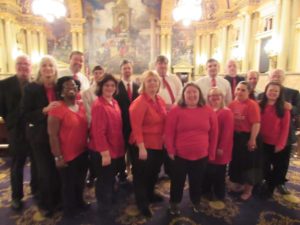 The mission of the State Street Miracles is to provide people with disabilities an outlet to express their musical and artistic talent while raising awareness in the community. While people with disabilities are more included in today's education and work communities, there are still barriers preventing them from inclusion in the art world. The Media Theatre staff, including Miracles Director Roger Ricker and accompanist/instructor Tim Haney, provide a wonderful bridge to performance opportunities.
Members of the State Street Miracles are: John Abrams of Swarthmore, Aaron Brooks of Ridley, Patrick Clark of Springfield, Maryjo D'Allesandro of Divine Providence Village, Nakisha Edwards of Media, Ted Harris of Rose Valley, Erin McGivney and Kevin Leaming of Wayne, Brian Short, Jake Spencer, Kimiko Iizuka and Kim Watson, all of Middletown, Brittany Roberts of Newtown Square and Erin Perry.
The State Street Miracles are available to perform at community functions. Performances are free, but donations are appreciated. For information about the Miracles, contact Trish Cofiell at 610-459-5498.
http://mediatheatre.org/theatre-school-and-classes/state-street-miracles/