Where is the Coffeehouse Located?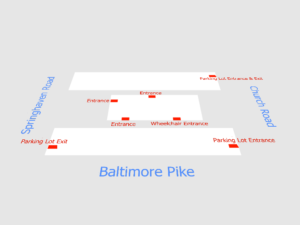 The coffeehouse is held at the Princeton Presbyterian Church, 933 Baltimore Pike, Springfield, PA 19064. Click Here to Get Directions to Our Venue at Princeton Presbyterian Church.
Entrance to the church is from the parking lot(s).
What About Parking?
There is plenty of parking next to the church in the parking lot(s).
When Will the Coffeehouse Be Open?
The coffeehouse will be open 1 night a week on Friday from 5:00 until 9:00. The musical entertainment will take place from 7:30 until 8:30.
Who Can Come to the Coffeehouse?
We are open to everyone including those who have a disability – any disability. We need to learn about each other's differences. We need to respect our differences. You should decide if a parent, guardian or staff is needed, at least for the 1st time until we can get to know the participant. (for now, we will not have an intake/registration/permission form).
The church is not ADA compliant but is wheelchair accessible.
How Big is the Coffeehouse?
Since the venue is small, we will have to limit attendance to the first 50 people who register and pay the admission. We need to keep space available for a parent, guardian or staff who may attend.
Why is There a Fee or a Gift?
Not too many things in life are free. The gift that you will pay is to help us cover the costs of renting the space and paying for staff who will help run it. We know that each family has different abilities to pay. That is why we want to leave it up to you to pay what you can. You determine the value that will be provided to the participant and gift us accordingly. A meal will also be provided for the participants. This will provide a family environment and help everyone get to know one another. The musicians will be playing for free, which is very nice of them. However, if we do make enough money each week to cover our expenses, then we will share the additional money with the performers. That's only fair.
What Will be the Structure of the Coffeehouse? What is the Typical Weekly Agenda?
We will provide structured activities, plus a meal, followed by the live music. Structured activities will include games, skits, telling jokes, karaoke, arts & crafts, dancing, and possibly a simple cooking activity. Your ideas for activities would be greatly appreciated. The meal will be included in the gift you give. It will be simple as well. It may include pasta and salad or pizza and salad. Your ideas for meals would be greatly appreciated, as well.
Are you a Sustainable and Eco-friendly Organization?
Yes, we are. At certain of our events, we will only use biodegradable and compostable products in our coffeehouse (plates, cups, utensils, napkins, etc.). We will obtain these from WhyNotBobStore. We will collect our trash and make sure that it is recycled appropriately. We are good stewards of the earth.
What About the Food You Will Be Serving?
We will have a simple meal each week. Since we can't possibly prepare something to meet everyone's likes, we'll start with a pasta dish and a salad. If you have a particular dietary restriction or concern, you should let us know about this in advance and/or on the registration-intake form that will be sent to you. You are also welcome to bring what you are comfortable eating that meets your needs.