Saturday July 8, 2017 5:00 PM

Paul Kurrey Band and friends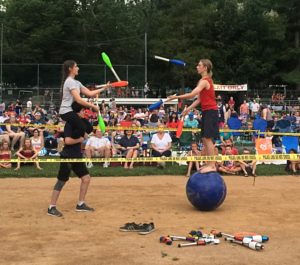 Our outdoor barbque will start at 5:00. Please bring a chair or blanket. We will have hamburgers and hot dogs and soft drinks. We now have some circus entertainment prior to the music. The Sidewalk Circus is an energetic trio of young performers, Leo, Lily Ruth and Scott. TSC brings a unique mix of juggling, unicycle, acrobatics and contortion to entertain and impress.
We are asking for a $10 minimum donation. However, if you can't afford that, you will not be turned away. We have always been, and will always be, a PAY WHAT YOU CAN venue.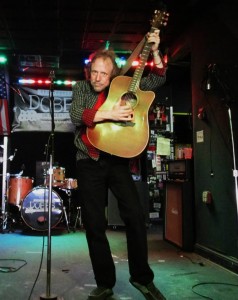 Paul Kurrey is a prolific songwriter solo artist who has been playing and writing for a number of years. He was bass player the band Smoothdog. Jamison Smoothdog was the unaccredited writer of the hit classic Can't You See by Marshall Tucker band. Paul most recently has had solo shows in Toronto New York, Philadelphia, Savannah, and New Jersey to name a few spots. He is in the movie documentary MEET ME ON SOUTH STREET the j.C. Dobbs story which is also in the library of the Rock and Roll Hall of Fame in Cleveland. His music has been called street hearted and beautiful. Lyrics take you to places from romance, break ups, street life, and a cast of characters that will certainly be as interesting as entertaining. There is nobody out there that can do a song about a hopeless drug addiction, the craziness of a romance gone bad as well as up beat tunes of love. He should not be missed.
The lyrics Paul writes have been called "street hearted, the music beautiful, and edgy heartfelt tell it like it is songs. The lyric ability of young Dylan,stage presence of Bruce, the wit of Lennon…" — Ken Cowle Radio Host Toronto
www.reverbnation.com/paulkurrey
---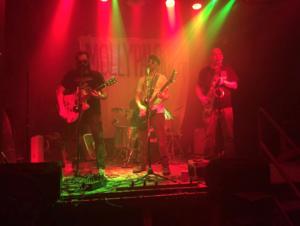 New Jersey's Jackie Puppet was founded in 2007 by singer/songwriter/guitarists Brad Kleiman and Jim "Southside Slim" Williams. Their first performances were at Crossroads in Garwood, NJ, where they were part of the open-mic scene. After years as a duo, Jackie Puppet were joined by "Saxy" Joe Braverman (on sax!) and Slim's Laziza bandmate Glenn "Hill" Hillman (on drums), transforming Jackie Puppet into the rock & roll band it was always meant to be. With the addition of NY singer-songwriter Grace Bergere on bass and vocals, Jackie Puppet's sound was more versatile than ever. As for that Jackie Puppet sound? Alternately raucous, mellow, melodic, and anthemic, Jackie Puppet's music is as unpredictable as its band members. Lyrics about horse-racing, beer-drinking, guitar-playing, and a cast of characters with names like Peg Leg Maria, Jane Crazy, Rock & Roll Reenie, and Charlene Whittenburg (from Phoenicia)! Jackie Puppet has performed at such New Jersey venues as the Stone Pony in Asbury Park, the aforementioned Crossroads in Garwood, 10th Street Live in Kenilworth, and most recently Dr. Lou's in Roebling. They've also played Brooklyn's legendary Fifth Estate, where they received noise complaints…
Jackie Puppet is currently on their 10th anniversary "Dime One Tour".
Brad: https://www.bradkleiman.com/music
Jackie Puppet: https://www.facebook.com/JackiePuppetMusic/
Jackie Puppet web site is still under construction, but sorta kinda fun
Event date is past