Friday January 12, 2018 7:30 PM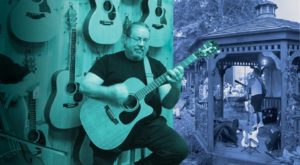 Don Baragiano combines ancient Middle Eastern scales & rhythms with American rock, jazz and classical music.
Don studied music theory in high school and attended the University of Cincinnati's College Conservatory of Music. In the 1970/80s, he was an Audio Engineer at Northern Ky University & at the Ministry of Finance in Riyadh, Saudi Arabia.
Don's long-time love of world music was solidified when he was invited to a private audience/master class with HRM King Faud's master musician, Hamzah Mohammed Al-Bashir.
In 2012 & 2013, Don was selected to compete in the Aaron Copland Foundation's "American Composer" series.
"I'm honored to be included in this group of highly talented and respected world renown artists. It's gratifying for a foundation of this caliber to accept my original music."
Hejira evolved from Seattle's premier original world music band into a sophisticated, nationwide educational/entertaining stage show.
They blend; world music & ethnic dance, sharing their collective global experiences with insight and humor as they impart their simple universal message, "We are all One".
Hejira has performed for many world music and international festivals in; Seattle, NYC, Sedona, Phoenix, Colorado City, Cincinnati, Bloomington, and many more.
Dons performances include:
Riyadh, Saudi Arabia: Performed for 1,000's of US Servicemen at the USMTM (United States Military Training Mission) inside of a huge aircraft hanger)
Arizona Tour: Performed in Sedona, Bisbee, Phoenix & Tucson .. for the "Musicians That Need to be Heard Network"
NYC performances: MMNY (Making Music in NYC) for 5 years, NYC Multicultural Festival
Seattle Performances: Many times at the Seattle Center; Arab Fest, NW FolkLife
With the New Europa Troubadours: Opening act – John Hartford & folk singer @ Blissfest in Upper Michigan, Opening act – Klezmatics at Birmingham City Stages Festival, 1st Night Celebration in Hartford, CT
https://www.youtube.com/user/HejiraMusic
Facebook: https://www.facebook.com/don.baragiano
Hard Rock Cafe Review:
Don Baragiano performs a multi-cultural blend of enticing, upbeat music. His performance creates a diverse musical tour from around the world…and the audience doesn't even need a passport.
Don lived and worked in Saudi Arabia for 3 years. There he learned about their culture and music, which is instrumental in helping him to recreate some of those exotic innovative sounds on his guitar.
On December 17th he was invited to close the 2016 music season at the Hard Rock Cafe in Niagara Falls, New York.
As a solo performer, the Jerry Garcia look-a-like, played a variety of music including; Rock, Middle Eastern, Jazz, Flamenco and Classically influenced pieces. He uses a drum machine for the percussion and a clever hi-tech device called the "TRIO+ Band Creator" to fill in the drum and bass backgrounds.
While he did perform a Jimi Hendrix song, the rest of the songs were Don's original compositions including a few which are 'on the spot' improvisations with intriguing Non Western beats.
Don's composition "Hejira" was based on the Sacred Prayer Call which he heard 5 times a day during his 3 year stay in Riyadh, Saudi Arabia. The musical scales and rhythms he heard at that time found a way into his consciousness and then into his original "East Meets West" sound.
Event date is past