Friday September 22, 2017 7:30 PM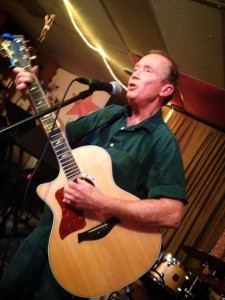 John Hudome is a Singer-Songwriter from Wynnewood, PA. John is originally from Aston, PA. He began performing in Delaware County at the age of 13. His college years were spent in Dayton, Ohio where he played the local coffee house scene. It was there that his love of acoustic music blossomed. John plays solo as well as with other musician friends when they are available. His musical style ranges from acoustic blues and gentle finger picking to good old rock and roll. His 2105 self titled album displays a wide genre range and is a most enjoyable listen. It is available on iTunes, Amazon and at all of his performances. John's most recent showcase event was at Singer-Songwriter Cape May in March, 2015. You can follow him at facebook.com/johnhudomemusic and johnhudomemusic.bandcamp.com.
0 signed up so far. Limit: 100.