Friday November 3, 2017 7:00 PM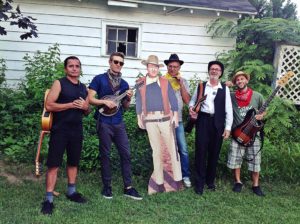 The Small Town Cowboys is a new band who first came together to record original music by Bob Fournier for his 2017 CD, "Bohemian Blues." Their crush zone of ideas has led to a highly creative musical environment. The dynamic guitar playing of Phil Romeo and inventive bass playing of Gabriel Esposito join with the compassionate lyrics of Bob Fournier. The three join voices in strong three-part harmony. Small Town Cowboy's bold instrumentation on the rock side is complimented on the folk side by brilliant mandolin player, Bryce Milano and sensitive harmonica player, Chris Jeye. Together, these five musicians transform diverse musical traditions into a unique musical melting pot.
Check out Bob's website at https://sites.google.com/site/4bobfournier/.
Event date is past