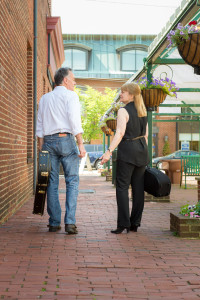 Last Chance is the musical duo of singer-songwriter Jack Scott and fiddler-vocalist Ingrid Rosenback. The group performs Jack's original songs, fiddle music, and traditional songs.  Jack plays 5-string banjo and guitar, and Ingrid plays fiddle.  Last Chance is a contemporary and traditional folk-roots fusion and bluegrass duo.
Armed with a guitar, a banjo and an appreciation for folk music, good rock and roll, bluegrass and other musical variations, Jack has been venturing into songwriting for years. Since 2001 he has served as self-appointed "banjo-boy" for the Wilmington based band, Whirled Peas. His original songs, which number over 200, have been recorded by Whirled Peas, by band-mate John Allen Frink, and by Last Chance on their CD, We Came to Play. Jack teaches a songwriting course, "Write From the Heart," at Temple University's Osher Lifelong Learning Institute.
Ingrid is a classical violinist with a degree in violin performance from the Ester Boyer College of Music and Dance at Temple University. She is a freelance musician with Heartstrings Entertainment and La Folia Strings. She moonlights as a fiddler-singer with Whirled Peas in addition to teaming up with Jack in Last Chance, where she plays, sings and contributes fiddle and vocal arrangements. Having served as a member of the faculty of The Music School of Delaware, Ingrid now teaches violin at Philadelphia's Temple Music Prep and in her home studio.
Last Chance performs throughout Philadelphia and the surrounding counties at festivals, library events, senior centers, bookstores and other locales. Some memorable venues include the Suzanne Roberts Theater, Burlap & Bean, Lansdowne Folk Club, Twisted Tail, and Chaplin's.
Their first CD of original and traditional music, We Came to Play, is available through the Last Chance website, http://lastchance.co.vu/
You Tube videos of Last Chance in concert are available on https://www.youtube.com/channel/UCgUNelfsdOcNjqHK21eJVWw/feed
Last Chance supports good music and worthy causes, and regularly participates in WXPN's Musicians on Call Program, bringing live music to the bedsides of patients. They raised almost $600 for the Akilah Club at Rosemont's Agnes Irwin School and donated the proceeds of almost $900 from their CD release house concert to Jubilee School in Philadelphia.
The duo has a unique, contemporary sound emanating from Ingrid's classical training and Jack's songwriting rooted in traditional folk music. Their music defies categorization and appeals to audiences of diverse ages and musical tastes.
Booking Information
Last Chance is available for house concerts, clubs, parties, street fairs or other events.
(610) 543-4357, irosenba@verizon.net
(610) 635-9742, jscott2194@aol.com
Website: http://www.lastchanceband.org/
From the audience . . .
"Your instruments and voices complimented each other so well. It was pure musical enjoyment (with a nice audience and setting)."
"The venue was terrific, and the group's talent for singing, playing and song writing is amazing! My two favorite instruments are the violin and banjo. What a night!"
"Thank you for an absolutely delightful evening of wonderful music. I absolutely enjoyed the unique sound of your duo and your music and the way you fill the air with optimism and happiness. The audience devoured your music with joy and enthusiasm."
Comments on "We Came to Play"
"Wonderful mix of folk tunes all written by Jack and sung by both. Violin, banjo, and guitar. The music reminds me some of Irish ballads, Appalachia, traditional mid 20th century tunes, and a touch of gypsy in Ingrid's violin. Even some notes of Eric Clapton. The lyrics are imaginative, vulnerable, tender, longing."
Concert Review
"Opening last night's Lansdowne Folk Club show was the duo of Jack Scott and Ingrid Rosenback known as 'Last Chance.' Together, they blended Ingrid's classical musical background mastering the violin with Jack's love of folk, rock and bluegrass music. These photos capture the allure of their musical mix, just wish you could have heard how sweet sounding they were playing and singing together. Check them out at http://www.lastchanceband.org/.