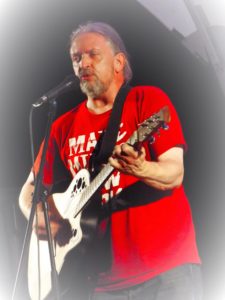 Frank Porter is an experienced acoustic performer that has a nice collection of original songs. His style is all his own but you can hear rock, folk, and blues influences in much of his original material. He won first place in Gibson/Epiphone sponsored Guitarfest in 2008 at House Of Guitars in Rochester, NY.
Frank has a long history of playing original acoustic music. He has also been in a fair share of rock bands. You may find his band Frank Porter's Problem Children on reverbnation here: www.reverbnation.com/fppc Frank likes to keep busy and feels he is finally getting a chance to do some of the things he has been working towards for years now. His new all acoustic album/CD, "Who I Am," represents many years of frustration with band members not getting on the same page which lead him back to his solo act. Not a bad thing. Here's a new album to celebrate the fact that Frank is performing solo acoustic again after so many years of focusing on just the rock band. We hope many of you will come out in support of the new album, Who I Am!
In February of 2013 Frank Porter and his CD, titled, "Who I Am," signed with Tate Music Group. The CD was re-released by Tate Music Group on August 6th, 2013. Frank is currently touring the northeast US on a regular basis. He has played at Steel Stacks in Bethlehem, PA, has been on the regional TV show, "Inside Music Today," and is a regular performer at The Artisan Exchange in West Chester, PA. If you're in that area you should check out The Artisan Exchange Market every Saturday 10 AM to 2 PM at 208 Carter Drive. West Chester, PA. Frank plays there every 6 weeks. The next time will be February 15th 2014.
The new CD/Album titled, Frank Porter – Who I Am," includes an open E tuning instrumental titled, "Twisted Blues." Franks first recording of an original done in open E tuning.
Frank is continuing to book more dates for the Who I Am Tour. Please send email with BOOKING in the subject line to fporter@hotmail.com to book Frank Porter.
http://frankporteracoustic.com
https://www.facebook.com/frankporteracoustic/