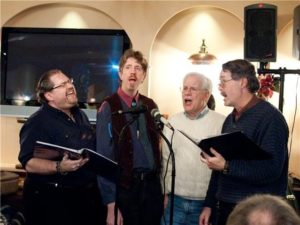 The Trolley Stoppers are four guys who are passionate about singing a cappella. No musical genre is off-limits for us. We do a little barbershop and a little doo-wop; some music from recent years and some from fifty or a hundred years ago. The Beatles, Billy Joel, and Tears for Fears are all in our repertoire. Some of our songs are commercially-available arrangements, and some we have arranged ourselves. Who knows what we might sing next? We'll try anything, as long as it has a good tune, appealing harmonies, interesting lyrics—and we enjoy singing it.
We have sung in various coffee houses in the area and at numerous community events. One frequent venue is Hobbs Coffee, by the tracks in Swarthmore, PA.
The Trolley Stoppers got together in the fall of 2008 when Jeff, Bob, and George (who had sung together previously) found a fourth member (Wayne) to complete the group. We loved singing together from the start; and before long, we found that our four voices were coalescing into a rich a cappella blend.
Finding a name was not as easy. After seemingly endless debates, we chose "The Trolley Stoppers" in honor of the trolley that runs down the middle of our town (Media, Pennsylvania).
The Trolley Stoppers are:
Wayne G. Harvey (tenor)
Bob Yarbrough (lead)
Jeff Busa (baritone)
George Alexander (bass)
http://www.trolleystoppers.com/
https://www.facebook.com/The-Trolley-Stoppers-168940103150437/