Friday May 4, 2018 7:30 PM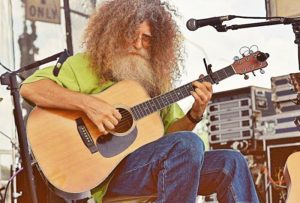 "Falcone is a talented composer who manages to write contemporary fingerstyle guitar melodies with a strong connection to the past. His polished performance only serves to enhance what he has written". (Sound Bytes Review)
Within the Philadelphia musical community few can capture and share the imagination hidden within the world of fingerstyle guitar like David Falcone. Descriptions:" … a heady stew of fingerpicking pyrotechnics," "hauntingly beautiful," and "a guitar virtuoso."
David Falcone is a fingerstyle acoustic guitarist/vocalist whose influences include the styles and techniques of artists such as Leo Kottke, John Renbourn and Pierre Bensusan. His original compositions reflect a unique synthesis of Celtic, traditional, and classical sounds and forms. His vocal works are often backed with the intricate details blended from these sources of inspiration.
Falcone plays regularly in the Philadelphia, Eastern Pennsylvania and, New Jersey areas at various coffeehouses, bookstores, clubs and venues. He regularly performs at World Cafe Live and has played XPN's Music Festival (2007), The Painted Bride, The Tin Angel, The Point, and Steel City Coffeehouse, The Minstrel coffeehouse, The Fire, The Landsdowne Folk Club, The Fortissimo House Concert, some of Philadelphia area's premiere venues. He has shared billings with notables such as Pierre Bensusan, Leon Redbone, John Renbourn, Erik Taylor, Francis Dunnery, Julie Foster, David La Motte, Antje Duvekot and Bill Staines. His songs have been aired on WXPN's program Sleepy Hollow and John DiLiberto's nationally syndicated program, Echoes.
Falcone's first CD, recorded at Longview Studios in Philadelphia, "Secrets of Sherwood" was released in 1997. His second CD, "Behind Your Eyes", was mixed by Emmy Award winning Tim Craven at Gen-X studios. Both CD's successfully mirror the intensity and passion that characterize the Falcone live performance.
When not writing, practicing or performing music, David is busy teaching in the Psychology Department at La Salle University.
Check out David on ReverbNation https://www.reverbnation.com/davidfalcone.
David is on Facebook https://www.facebook.com/david.falcone.music.